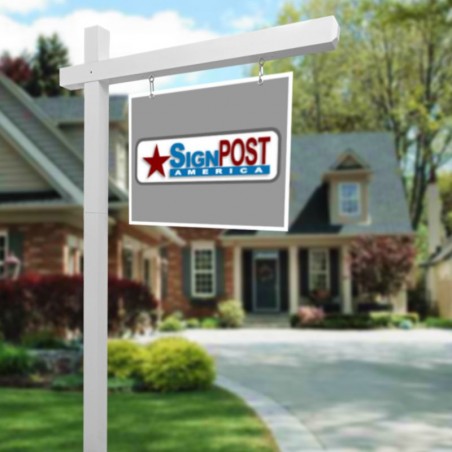  
Colonial Real Estate Sign Post
Colonial Real Estate Sign Post.  This product was designed for cheap shipping and universal application and should fit 90% of all hanging sign panel sizes right out of the box. Made out of aluminum and powder coated in various colors.  White and Black are stock.  Red, grey, and blue are non-stock and require a few days for fabrication.  Universal arm Fits signs 24 or 30 inches wide.  66 inch 2-piece post.  
Sign not included.
Encrypted Secure Transactions
Improved Product.  Colonial Real Estate Sign Post. Made out of aluminum and powder coated in various colors.  The vertical post comes in 2 pieces with an easy slide snap button.  The signpost fits into a smaller box and that enables us to offer you discounted shipping. Works for signs 24 to 30 inches wide.  Includes aluminum caps on the post and arm powder coated to match the post.  Also Includes a steel stake and all required hardware to hang your sign.
Assemby and Installation instructions
CAUTION: HAVE ALL UNDERGROUND UTILITIES MARKED BEFORE INSTALLATION
1. Pound the stake into the ground to a sufficient depth (a small sledge hammer is ideal).
2. Slide the lower post (with sleeve) over the stake.
3. Slide the upper post over the sleeve on the lower post and snap into place.
4. Attach the arm to the post.
5. Screw the eye bolts into the threaded grommets to the desired depth. Attach your sign to the eye bolts with the safety pin clips. attach the optional rider clips to the top of the arm as desired.