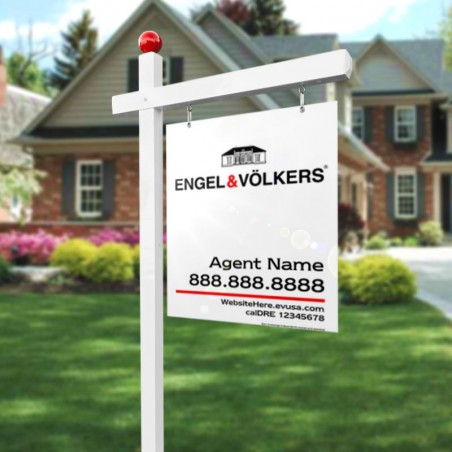  
Engel & Volkers Sign Post
Engel & Völkers real estate sign post.  White powder coated aluminum sign post with the red ball.  66" tall 2-piece post, holds signs up to 24" wide.
This product was designed for cheap shipping and universal application and should fit 90% of all hanging sign panel sizes right out of the box. 
The 66 inch vertical post comes in 2 pieces for compact shipping and storage. Universal arm works for signs 24 to 30 inches wide.  
Notes and special instructions can be added at checkout.
Encrypted Secure Transactions
Assemby and Installation instructions
CAUTION: HAVE ALL UNDERGROUND UTILITIES MARKED BEFORE INSTALLATION
1. Pound the stake into the ground to a sufficient depth (a small sledge hammer is ideal).
2. Slide the lower post (with sleeve) over the stake.
3. Slide the upper post over the sleeve on the lower post, fasten with screw.
4. Attach the arm to the post with the nut and bolt.
5. Screw the eye bolts into the threaded grommets to the desired depth. Attach your sign to the eye bolts with the safety pin clips. attach the optional rider clips to the top of the arm as desired.