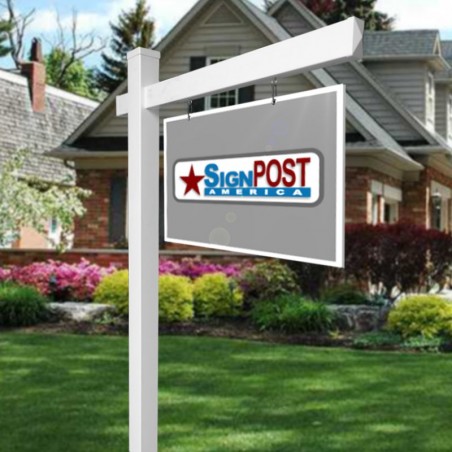  
Real Estate Sign Post
Heavy Duty Sign Post.  This white vinyl real estate sign post comes with a 4x4 vinyl post post, arm, 3 eye bolts, 3 safety pin clips, 1 wire retainer, 2 sign rider clips with screws, post and arm caps and a heavy duty steel stake...everything you need to set up and hang your sign.  On Sale - 60" post with the Short Arm
Encrypted Secure Transactions
Heavy Duty Sign Post. 
The post is 4" x 4".  The shorter arm 36" x 2" x 3 1/2"  will hold a sign up to 24" wide, a larger arm (47" long) is also available that will hold signs up to 36" wide. Made from new PVC vinyl...won't rot, fade or warp. Easy to install.
Fasteners
This product has adjustable fastener locations and will work with most signs.  The short arm will accomodate signs with holes that are spaced from 12" to 20" apart.  The long arm will hold signs with holes spaced from 16" to 30" apart.